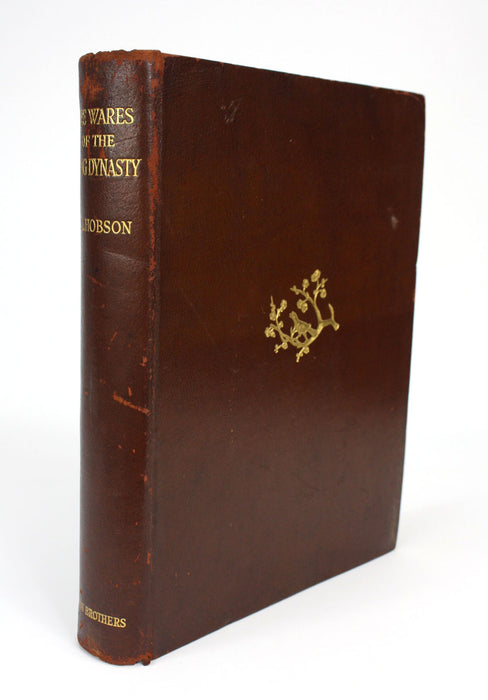 The Wares of the Ming Dynasty, R L Hobson, 1923, very rare leather bound signed limited first edition
The Wares of the Ming Dynasty, R L Hobson, 1923, very rare leather bound signed limited first edition
RECENTLY SOLD
1st edition.
Ltd 73/256
Without doubt one of the collectable books on Chinese art. This is a rare edition of the first edition of this work, with only 256 copies produced, of which only 250 were offered for sale. Overall, a rare opportunity to acquire this much sought-after book.
This book is Numbered 73, and is signed by the author and includes an extra colour plate. It is bound in pigskin and printed on English hand-made paper. xvi + 240pp + 128 illustrations of which 11 are in colour. Benn Brothers Ltd. 1923.
Very few copies of this ever come up for sale now and we may never get another one.
Dimensions:
302mm high x 235mm wide x 53mm deep
Condition:
Cover: signs of shelf wear to covers and extremities and spine worn and bumped (see pictures). Gilt letters are crisp and clear and bindings are firm. 
Endpapers: Slightly spotted and discolored with age. No previous owners descriptions or bookplates.
Text: Gilt edges to top.
Text is in 2 sections: the hand-made paper section at the front and the glossier paper at the rear containing the large section of black and white plates.
The first section suffers from some staining to the edges of the paper. This does not encroach onto the actual text and the plates in this section are also unaffected. This mainly affects the pages which are uncut and slightly wider than those that have been cut. The second glossier section of plates in unaffected by any staining and the page are clean and bright.
Bonus:
The book comes with a bookmark and 2 advertising pamphlets on Chinese art from the period - presumably sold with the book originally (pictured).