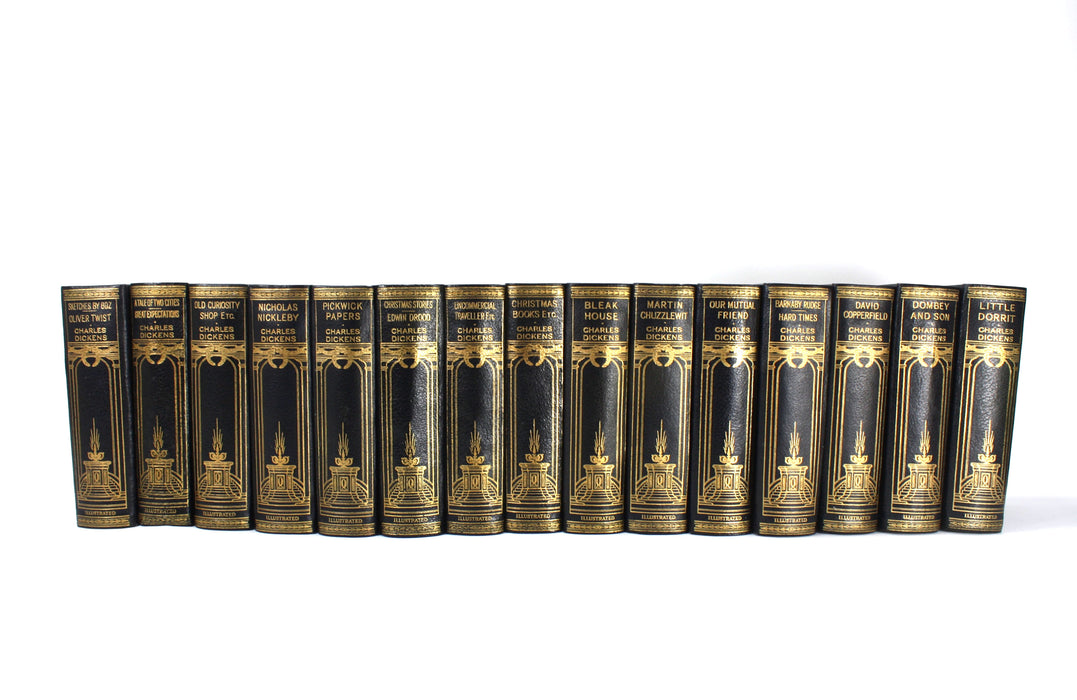 The Works of Dickens, 15 Volume set, complete. 1930s.
The Works of Dickens, 15 Volume set, complete (as described in the prelims). Some volumes contain 2 books.
SOLD
A vintage facsimile edition of The Waverley Book Company edition, which was described by Dickens as 'This Best edition of my Books.' Printed in Great Britain by the Greycaine Book Manufacturing Company Limited, Watford. Undated. The binding style is also as per the original printing.

Although undated, we know that Greycaine moved to Watford in 1926 and ceased trading under that name in 1941, so the books were clearly produced between those two dates. The books are really in near fine condition, with just a few minor flaws, and really don't look their true age at all.
Set comprises: Sketches by Boz, Oliver Twist, A Tale of Two Cities, Great Expectations, Old Curiosity Shop etc, Nicholas Nickleby,  Christmas Stories, Edwin Drood, Uncommercial Traveller etc, Christmas Books etc, Bleak House, Martin Chuzzlewit, Our Mutual Friend, Barnaby Rudge, Hard Times, David Copperfield, Dombey and Son, and Little Dorrit.
A near fine set of navy blue hardbacks with gilt. Faux leather covers. Blue top edge to text block. Books are tightly bound. Covers with minimal wear except for a couple of volumes which have a few marks on them. Text is clean. No owner's inscriptions or marks. Some minor age spotting to edge of text blocks and a few with a little blue run from the top edge colouring.
An attractive set. Illustrated.
Substantial - Total Weight approximately 15kg unpacked.

Approx Dimensions:
Each volume approximately 203mm high x 140mm wide x 50mm deep.