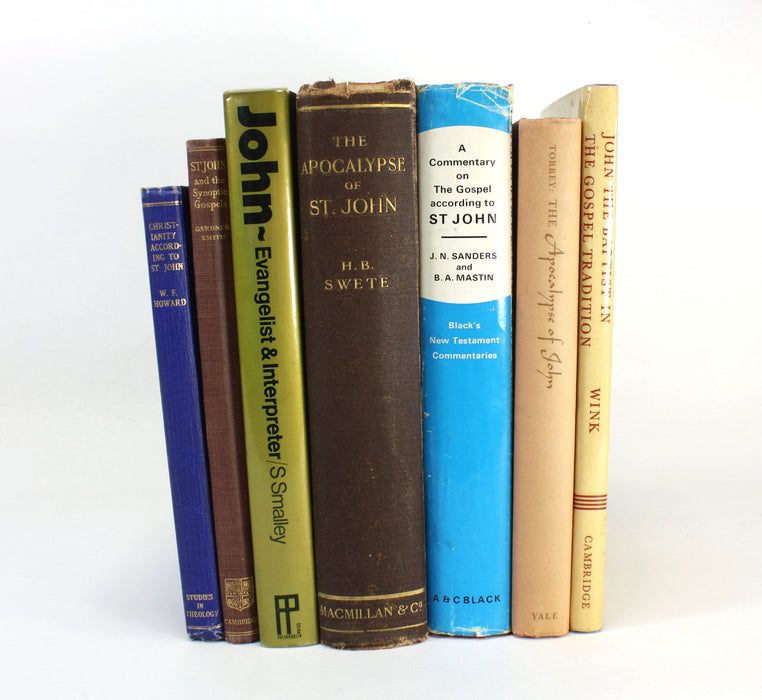 Theology Bundle: St. John book collection
Save

Liquid error (snippets/product-badge line 32): Computation results in '-Infinity'

%
Theology Bundle: St. John book collection.

We have recently acquired a collection of books on theology and religion. Some will will be listing as individual titles, but others we will be bundling into sets which will offer very good value for money.
Condition of the books generally ranges from good to very good, but there will be exceptions. Please expect some titles to be ex-library, have owner's signatures,  studious annotations, or minor damages, but the books will be in a very usable condition.
Titles included in this particular bundle are listed below. If you require specific detailed information on any particular title please just let us know.
Set comprises;
The Apocalypse of St John; the Greek Text with Introduction Notes and Indices, Henry Barclay Swete, Macmillan and Co, London, 1907, 2nd edition (text in English with Greek).
John the Baptist in the Gospel Tradition, Walter Wink, Cambridge University Press, 1968, 1st edition.
Saint John and The Synoptic Gospels, P. Gardner-Smith, Cambridge at the University Press, 1938, 1st edition.
Christianity According to St john, W.F. Howard, Duckworth, London, 1947, 2nd reprint of the 1943 1st edition.
The Apocalypse of John, Charles C. Torrey, Yale University Press, New Haven, 1958, 1st edition. 
John: Evangelist & Interpreter, Stephen S. Smalley, The Paternoster Press, Exeter, 1978, 1st edition.
A Commentary on The Gospel According to St John, J.N. Sanders & B.A. Mastin, Adam & Charles Black, London, 1968, 1st edition.
Text in English.
Weight: Approximately 3.6kg (the set - unpacked).
Books will generally have to be sent by courier delivery due to weight.