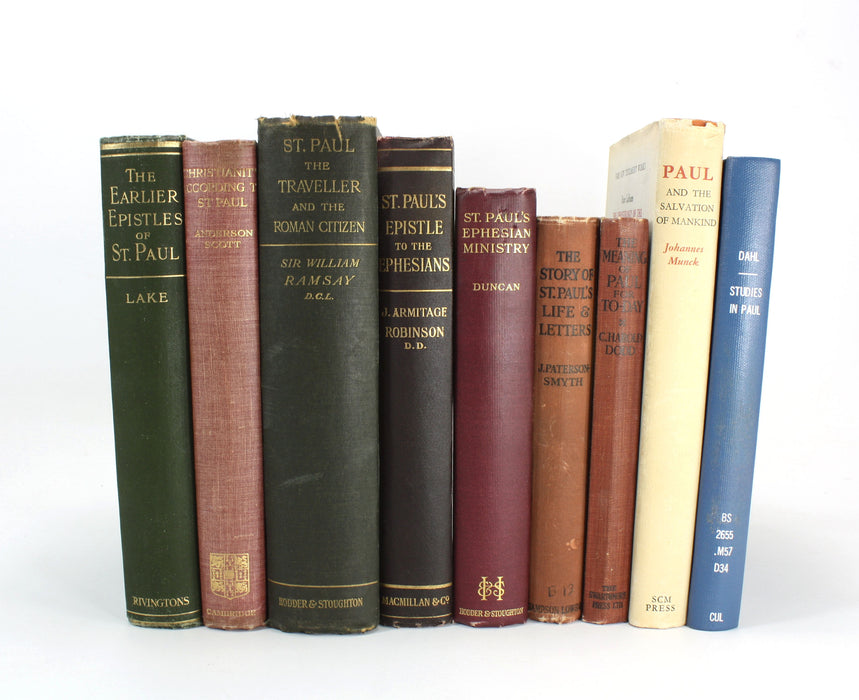 Theology Bundle: St Paul books collection, Set 1
Save

Liquid error (snippets/product-badge line 32): Computation results in '-Infinity'

%
Theology Bundle: Synoptic Gospels; The Synoptic Problem book collection.

We have recently acquired a collection of books on theology and religion. Some will will be listing as individual titles, but others we will be bundling into sets which will offer very good value for money.
Condition of the books generally ranges from good to very good, but there will be exceptions. Please expect some titles to be ex-library, have owner's signatures,  studious annotations, or minor damages, but the books will be in a very usable condition.
Titles included in this particular bundle are listed below. If you require specific detailed information on any particular title please just let us know.
Set comprises;
Studies in Paul; Theology for the Early Christian Mission, Nils Alstrup Dahl, assisted by Paul Donahue, Augsburg Publishing House, Minneapolis, 1977, 1st edition.
Paul and the Salvation of Mankind, Johannes Munck, SCM Press, London, 1959, 1st English edition.
The Earlier Epistles of St Paul; Their Motive and Origin, Kirsopp Lake, Rivingtons, London, 1930, 2nd edition, 5th impression.
St Paul's Epistle to the Ephesians, J. Armitage Robinson, Macmillan and Co, London, 1914, 2nd edition.
The Story of St. Paul's Life & Letters, J. Paterson-Smyth, Sampson, Low Marston & Co., London, 2nd edition, Undated, c. 1917. 
The Meaning of Paul for To-day, C. Harold Dodd, The Swarthmore Press ltd, London, 3rd impression, 1930.
St. Paul's Ephesian Ministry; A Reconstruction, George S. Duncan, Hodeer and Stoughton, London, 1st edition, October 1929.
Christianity According to St Paul, Charles A. Anderson Scott, Cambridge at the University Press, 1932, 2nd impression.
St. Paul The Traveller and the Roman Citizen, W.M. Ramsay, Hodder and Stoughton, London, 1908, 10th edition.
Text in English.
Weight: Approximately 5.2kg (the set - unpacked).
Books will generally have to be sent by courier delivery due to weight.