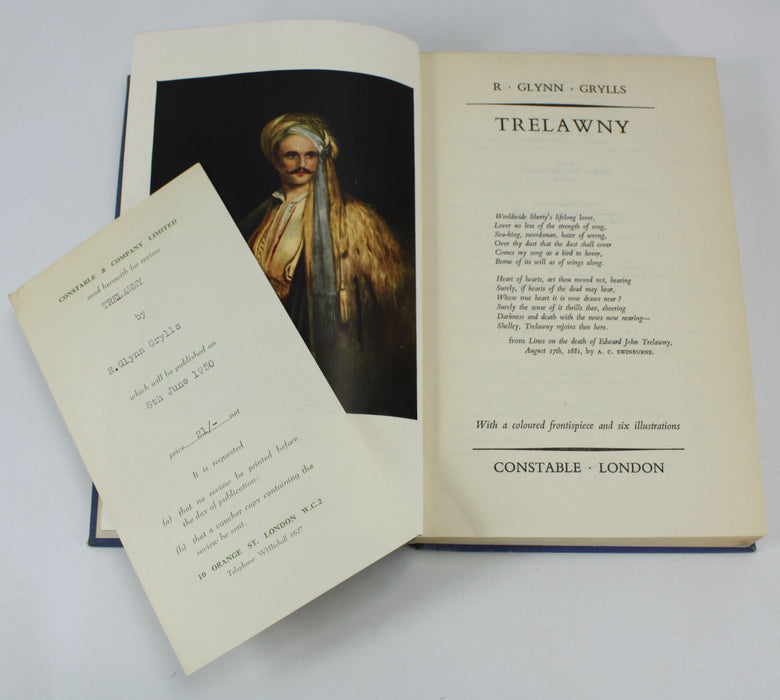 Trelawny by R. Glynn Grylls, 1950
Trelawny by R. Glynn Gryll.
SOLD
Provenance; from the library of the late William St Clair (1937 - 2021), British historian, academic and author. His signature to both first pastedown and first free endpaper, and some pencil annotations by him, mainly at the rear. Please see our other listings for related works. William St Clair later produced his own work on Trelawny which was published in 1977.
Published by Constable, London, 1950. First edition. Also included is an original pre-publication review slip from the Publisher. Biography of Edward John Trelawny (1792-1881), who was a British biographer, novelist and adventurer, best known for his friendship with the Romantic Poets, Percy Bysshe Shelley and Lord Byron.
A good blue cloth hardback with sun-faded spine and top edge, and general shelf wear. Top of text block a bit greyed. Text pages are nice and clean throughout and soundly bound.

256pp + Plates. Text in English.
Weight approximately 408g unpacked.
Dimensions: Approximately 220mm high x 146mm wide x 25mm deep.