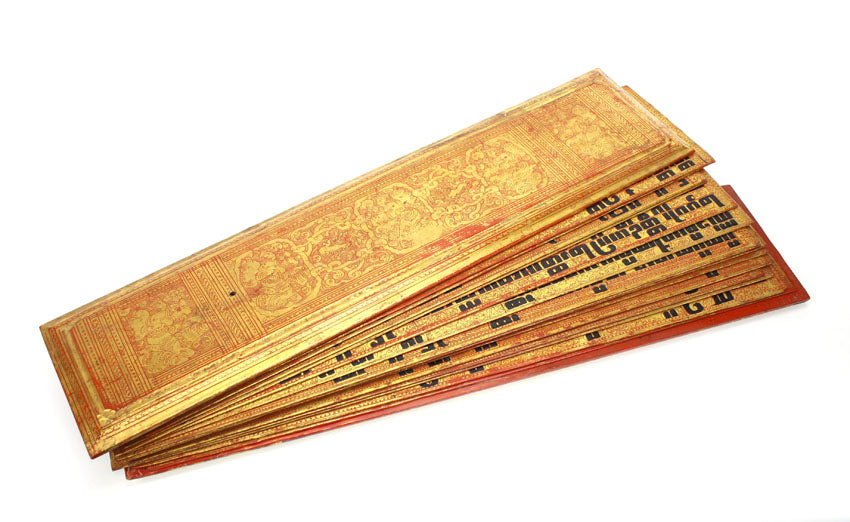 Burmese kammavaca Buddhist manuscript 1
Burmese kammavaca Buddhist manuscript 1
SOLD
This kammavaca Buddhist manuscript consists of 2 covers and 16 leaves, making it most likely a complete text. Please see my Lanna Post blog about this where I look at the pagination of kammavaca.
Kammavaca texts typically contain religious instructions for monks. These were normally presented to novice monks, being commissioned by lay people, gaining merit in the process.
The outer leaves are fashioned from lacquered wood to provide a rigid finish.
The leaves are also extensively lacquered and decorated with gold and most likely to be based around palm leaves (although the material base can vary).
This beautiful example is highly decorated and the leaves carry 6 lines of Pali script as well as Burmese numbering.
The small hole in each leave was so they could be placed over a bamboo skewer when being read.
Kammacava in this condition, and as a complete set, are increasingly rare as they often split into individual leaves for display purposes.
The inside of the outer leaves carries an inscription, which roughly translated provides the following information:
A lady called Mae Lone, who was the mother of a monk, presented this kammavaca as an act of goodwill. She lived in a village called Wet Jaut. The head monk of the village monastery was known as Pyin Nyar Sa.
Dimensions:
Each cover/leaf approx 63.5cm long x 16cm wide.
Date:
circa 1880-1930
For similar examples see "Burma and the Art of Lacquer", by Isaacs and Burton, River Books, 2000, plates 10 and 172.