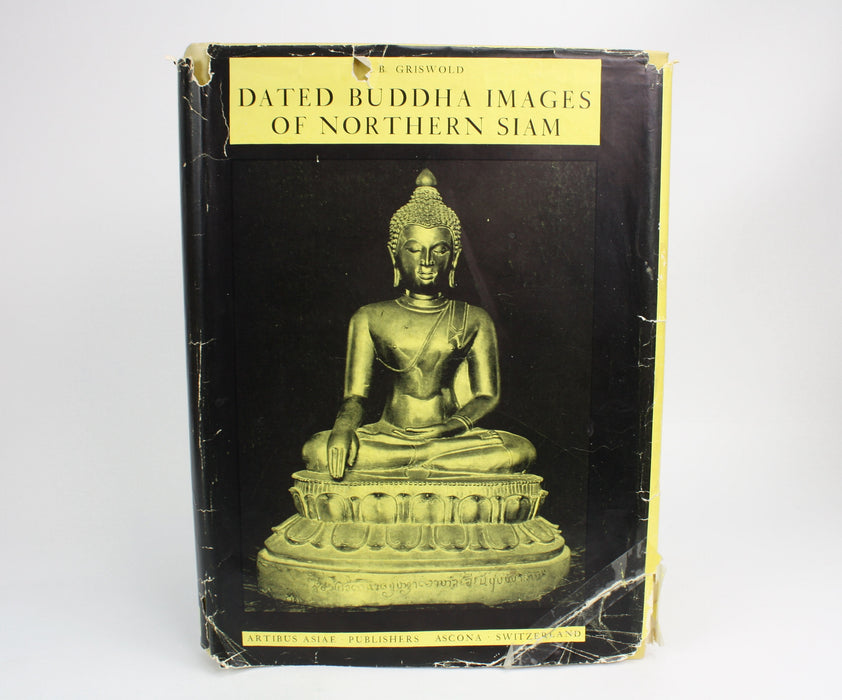 Dated Buddha Images of Northern Siam, Presentation Copy, A B Griswold, 1957 1st edition
Dated Buddha Images of Northern Siam by A B Griswold.
SOLD
Artibus Asiae, Curat Editionem Alfred Salmony, Supplementum XVI.
1st edition, 1957. Published by Artibus Asiae, Ascona, Switzerland.
A particularly interesting copy of this scarce volume as it is a presentation copy from the author inscribed 'with compliments of the author' on a tipped in card and features the bookplate of Reginald Le May (1885-1972) who was a well known published scholar of Thai art. He also worked in the Siamese Government as he lived and worked in Thailand for 25 years.
Absolutely indispensable reference for those with a serious interest in Thai Buddhist art.
Not only are there excellent verified dateable images of Thai Buddhas, but there is a wealth of categorisation information on such detailed subjects such as the portrayal of the Buddha's feet, hands, ears, monastic robes, curls and forehead marks. Fabulous reference book and now very scarce. A book we have found to be absolutely essential. The dated images span 1470 - 1901.
This copy is in very good condition. Still has original dustjacket over yellow cloth boards. Dustjacket is only in fair condition with missing pieces and tears (see photographs). The book itself is very good approaching near fine - minor age discoloration and occasional scholarly notes in the margins - presumably from Le May himself. Small bookseller's sticker to first pastedown.
98pp + 57pp plates. Includes map on first pastedown and 12 tipped in figures, plus illustrations.
Dimensions:
320mm high x 230mm wide x 28mm deep.