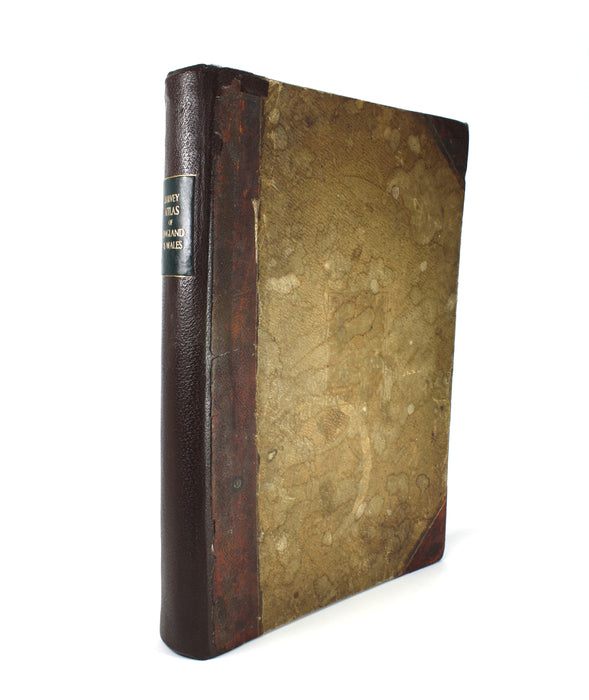 The Survey Atlas of England & Wales, Bartholomew 1903
The Survey Atlas of England & Wales; A Series of Eighty-Four Plates of Maps and Plans, with descriptive text, illustrating the topography, physiography, geology, climate, and the political and commercial features of the country. Designed and prepared under the direction of J. G. Bartholomew, F.R.S.E., F.R.G.S.
SOLD
Drawn, Engraved, printed and published at the Edinburgh Geographical Institute under the patronage of the Royal Geographic Society, 1903. First edition.
A very substantial early 20th Century atlas with an impressive collection of colour plates. A very good copy after professional restoration. Original covers remounted and binding completely secured. New leather spine with title label. Rubbing and soiling to boards. The original cloth was red, but the front cover has discolored to brown. Embossed crest to front cover.
Marbled endpapers - the first free endpaper has been rebacked. The text and plates are in very good condition with only minor age discoloration. Gilt edges to text block.
An impressive tome of considerable scarcity. Only 28 copies are listed in major libraries worldwide in Worldcat.
xii + 27pp + 84 Plates; Plates are large double page colour spreads.

Dimensions: Approximately 463mm  x 335mm x 65mm - approximately 18" x 13" - large folio size.
Weight approximately 7kg unpacked.